: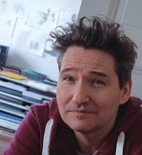 If you've clicked or touched through the pages of this website, you should have a pretty complete overview.
But you can also check out this short summary:
I studied graphic design with a focus on editorial illustration and graphic storytelling. I worked as a storyboard
artist and conceptual illustrator for television commercials, short films, and music videos during that time.
Since I've graduated in 2000 I worked on animated feature films as a production designer.
I have also worked on various animated trailers and served as a consultant on several live action film concepts
and comic book projects.
film work since 2000:
comic book work :
education :
Year
Title
2000
Graduated as Diplom Designer (Masters Degree)  at University of Applied Sciences and Arts Hannover / Germany